MUSIC MARK
We are proud to be a Music Mark school nominated by Cumbria Music Service to recognise the value we place on music education.
What Cumbria Music Service says about Chetwynde:
'You ensure that pupils at your school are able to access and engage with high-quality music education. Your dedication to offering and delivering a broad and balanced curriculum is both welcomed and celebrated'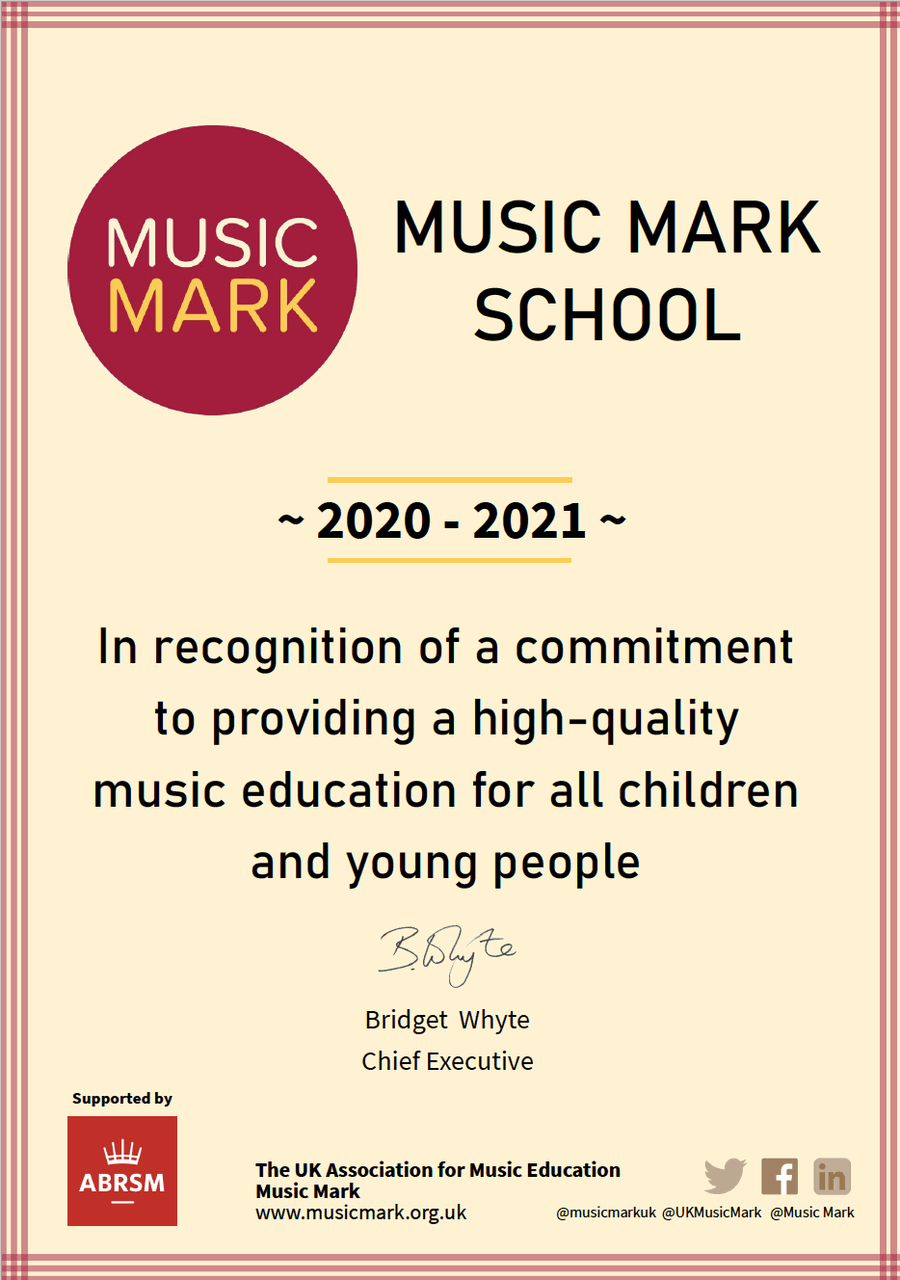 Music and Drama
PERFORMING ARTS
Music and Drama develop a number of transferable skills that students can use throughout their lives. We focus on teaching students to respect and value a variety of cultures as well as different points in history. We teach them how to listen analytically, how to perform with confidence, how to work together in a variety of groups and how to deliver reasoned opinions, thinking about the respect of others.
We ensure lessons are fun and inspiring, ensuring that delivery of material is accessible to all students. We support students in their learning and ensure that the music department has a mutually respectful and safe atmosphere where students feel comfortable to "have a go" at performing and working together. We encourage students to meet and exceed their targets.
We have recently invested in our Performing Arts department and updated our theatre and music resources. We have a beautiful theatre in which the students have their drama lessons and rehearsals are held. Our music resources are modern and include opportunities for students to learn music technology as well as classical music.
Curriculum:
All KS3 students have a weekly Performing Arts lesson. In Year 7 students have an extra lesson per fortnight to help with the transition. Music and Drama are taught on rotation so that all aspects of the curriculum are covered over the year. Often the topics we study cover Music and Drama together.
Students follow a skills-based course using National Curriculum guidelines for the basis of the Schemes of Work. An overview of the topics covered can be found below but these include:
Keyboard skills (music focus)
Radio plays (drama focus)
Rhythm and percussion (music focus)
Rap music and the musical Hamilton (music and drama combined)
African music and the music of the Lion King (music focus)
Our Day Out play study (drama focus)
An introduction to theatrical practitioners (drama focus)
All classes and year groups are taught by our Head of Performing Arts.
KS4
In KS4 we currently offer Drama GCSE through the AQA exam board.
This is an exciting 2 year course and includes the following -
Understanding Drama (a written exam worth 40% of final grade )
Devising Theatre (40% of grade based on a final performance and a devising log)
Performing Theatre (a practical exam of 2 pieces from one play worth 20% of final grade).
All GCSE Drama students are able to take part in our annual London theatre trip and visit the heart of the UK's theatre district.
Extracurricular Opportunities:
There are a number of trips and enriching opportunities to look forward to as part of the study of Performing Arts. These are ever-expanding but include trips to the theatre to see musicals, operas and to take part in workshops. There are also a number of extra-curricular clubs run at the school. These include music and drama groups. Annually we produce a Christmas concert, Musical and a play, as well as other performance opportunities throughout the year.
THEATRE RENOVATION PROJECT
in 2019 we launched a plan to renovate our theatre to make it a more usable space for our school community and the groups in the wider area. Together with the Friends of Chetwynde, staff, governors and parents we spent many hours rebuilding the stage and upgrading the space. We now have a large stage with wing space and a cyclorama screen for large scale projection. The next stage of our plan is to build a mezzanine technical level area and upgrade the curtains, sound and light equipment. Watch this space.