LUNCH SHOP INFORMATION
We have exciting news about our school meals which we hope will make the process of choosing and paying for a child's lunch at Chetwynde School easier both for you as a parent and the school.
Our school meals team already create a varied menu of fresh, home-cooked and nutritionally balanced meals every day with menus updated periodically. The choices will continue to include a range of hot meals, vegetarian options, sandwiches or baguettes, soup, salad and a pasta bar along with a selection of desserts. If your child has a specific food intolerance, we will do our best to accommodate.
The school's lunch policy will remain with packed lunches allowed only upon presentation of a doctor's note or in exceptional circumstances following approval by the Head of School.
Now that Orian has introduced Lunch Shop, an online ordering and payment system, parents and children can go online and choose meals together, in advance. You can also pay for meals online, which means you won't have to bring cash or cheques into school, you can simply top-up your balance when you need to.
As a school, we now look forward to receiving your orders online. We hope this will be a very useful new addition to our School Meals service.
All meals taken will be visible on your account so you will be able to see what your son or daughter ate for lunch that day. Using this system, not only can you choose the food your child likes but you are guaranteed to have the meal you have ordered.
Please find below your unique log-in and password to the system (which you can change in your profile) to be used at www.lunchshop.co.uk
USERNAME: PASSWORD:
Please note that ALL parents will need to book a meal even if the meal they are entitled to is a Universal Free School Meal (Reception, Y1 & Y2) or Free School Meals.
Log into

lunchshop.co.uk
Enter username and password (case sensitive)
You

may

be asked to update your profile. Please amend as necessary, click 'update' then the 'back' button.
Check it is you and your child/children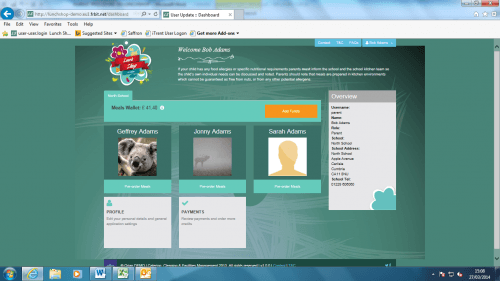 Adding Funds
Click the orange 'add funds' button (necessary only for children who you pay for)
Enter the amount you wish to credit your account with
Click the box to agree the T&Cs
Click 'continue'
Follow the instructions on screen to make your secure payment
To the left of the add funds button is your ' meals wallet' balance
Pre-ordering meals
Click on 'pre order meals' under the child. You will need to order for each child individually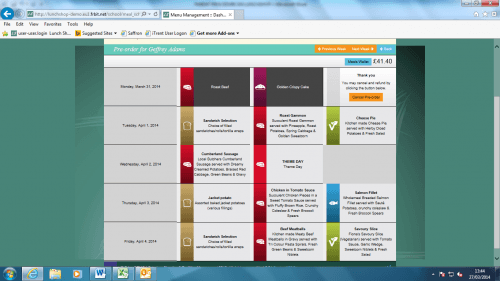 The above screen will come up showing the meals available for that week.
Click on the chosen main meal. Once this is chosen, the desserts will appear
Click on the chosen dessert
Once chosen the meal choice will be displayed with a dark background and your meals wallet will be debited with the cost of the meal
Click the 'next week' button at the top of the screen to choose for the following week
You can cancel this order and start again if you wish by clicking the 'Cancel Order' button. The cost will then be credited back into your meals wallet and then debited again once you have re-chosen
You may order three weeks in advance and look back three weeks previous by clicking the 'previous week' button to see what your child has ordered if they have ordered at school
Profile
This is where you may change your personal details, passwords etc.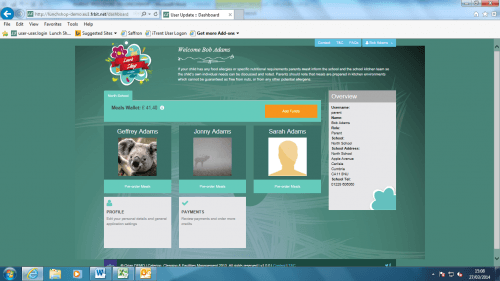 Payments
This gives you an overview of your accounts. You can search by transaction type or date. Just make your choice and click search. You can either view online, print out or export to a spreadsheet.
Below is an example of what you would see in the accounts overview:-
| | | | | | | | |
| --- | --- | --- | --- | --- | --- | --- | --- |
| | Account | Transaction Type | Status | Description | Created On | Date | Amount ( £ ) |
| | Bob Adams | Meal Pre-order (debit) | Complete | Pre-order for Jonny Adams on Mar 31, 2014 | 1 day ago | Mar 25, 2014 | -2.20 |
| | Bob Adams | Meal Pre-order (debit) | Complete | Pre-order for Geffrey Adams on Mar 31, 2014 | 1 day ago | Mar 25, 2014 | -2.20 |
If you experience any problems please call your school administrator or call Orian on 08454 707010.
TROUBLE SHOOTING – If you are unable to view the menus once you are logged in, then it may be that your internet browser cannot support this application, you just need to download the FREE version of Google Chrome or similar.