Student Shout-Out!
Student Shout-Out!
27 April 2020 (by admin)
27th April 2020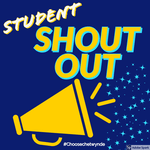 We had some inspiring news in the Chetwynde In-box this morning! Owen Wallis, in year nine, has raised £160 for Ward 9 at Furness General Hospital. How did he do this? He shaved his head!
It is fantastic to hear about the achievements of our students and is welcomed good news. If you have any more updates, please send them to us for a Shout-Out.
A huge well-done Owen!