Work Experience Update
Work Experience Update
22 May 2020 (by admin)
22nd May 2020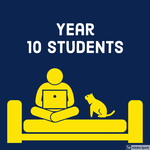 Dear Students and Parents,
I hope you are all well. I am contacting you about work experience which was due to take place the week after half term. I have decided to cancel work experience and give full refunds for those parents and guardians who had made payments.
Refund
Can you please email finance@admin.chetwynde.cumbria.sch.uk with your name/ their child's name/ their bank details and also to confirm how much they have paid. The finance team will aim to make all payments after the half-term break; please be aware that all of the finance team are working remotely and refunds may take more time than usual.
Online Work Experience
I have attached a one-page document showing five possible virtual opportunities with inbuilt links for students to select and follow.
I hope the students find this resource useful and thank you for all your support in these difficult times.
Kind Regards
Mr Swainson
Martin Swainson
Assistant Headteacher (Behaviour, Personal Development and Transition)
Chetwynde School
m.swainson@chetwynde.cumbria.sch.uk
Tel: 01229 824210
Ext: 140