More Shout Outs!
More Shout Outs!
23 June 2020 (by admin)
23rd June 2020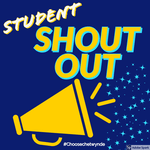 We are on a roll with our Student Shout Outs! Our very own Jasmine Blake has had her poetry picked up by the Evening Mail. She has written about BLM, and skilfully used the medium of poetry to express her thoughts and feelings on this hugely important issue. The English department is thrilled to see her success as we work hard to open up the world of poetry to our students.
Click here for the full story: https://www.nwemail.co.uk/news/18532478.barrow-student-praised-powerful-black-lives-matter-poem/?fbclid=IwAR15vPvX7rPTks0dcRnuC4LuJCvb8nL0nVrROaM1C-bnMtMhAmimRrcTNLc
The full poem has been posted in ChetChat on FaceBook.
Very proud of your creativity Jasmine.