Social Media Alert
Social Media Alert
8 July 2020 (by admin)
8th July 2020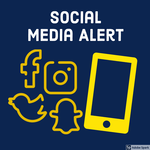 Unfortunately, and rather worryingly, some children in Cumbria have been messaged directly inviting them to participate in The Blue Whale Challenge.

The Blue Whale Challenge first surfaced between 2016-2018 across the world, and in this country, and county too.

The challenge encourages teenagers (often girls more than boys), to undergo a series of 50 challenges that culminate in committing suicide.

The challenges are given online or through text messages, instant messages or posts on Instagram and Twitter.

Things for professionals and parents/carers to look out for in particular are the following warning signs in children:

Any messages/posts relating to Jonathan Galindo, a man that may also be seen with his face painted like a dog.
Any references to #f57, #f40 or #IMaWhale (these were being circulated in 2017-18).
Waking up very early in the morning to watch scary videos or do other unusual tasks.
Scratching a sketch of a whale onto their body.
Making deep cuts on their arms.
Standing on the edge of a roof/bridge.
Taking photos of any of these activities to accounts that you don't recognise.
Physically hurting themselves.
Extreme changes in eating or sleep habits.

We must remember that some of the above signs, may NOT be linked with The Blue Whale Challenge, but could still be a cause for a parent/carer/professional's concern.
If you have any worries or concerns please contact school in the usual way.