Testing Update
Testing Update
4 January 2021 (by admin)
4th January 2021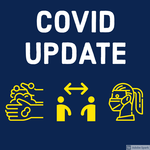 Good Evening Again!
We have decided that the safest way forward for our school community is to cancel the testing tomorrow. We want to say thank you to all the volunteers who attended today and were due to help tomorrow.
Tomorrow we will be planning the provision for keyworker and vulnerable children. There will shortly be communication with links to online forms to request places if your family is eligible and in need of this provision.
Tomorrow will see the start of remote learning. There is a full outline of this on the school website, and I would encourage you to look at this. https://www.chetwynde.co.uk/remote-learning In essence, we will continue to follow the timetable for senior school. Students should 'clock-in' with form tutors each morning via the Form Team and then each class team for the remainder of the day. The primary school will be contacted by each class teacher via Teams.
We have been inundated with requests for password resets and logging on issues. We are working through these as quickly as possible.
If you have questions or queries, please direct these to school via school email and not directly to teachers' social media accounts or FB posts.
As you can imagine, there is much to organise, and we appreciate your continued patience and understanding as we react to this rapidly changing situation. Please keep a close eye on Jotter over the coming days as we keep you updated.