Increasing Data Allowances on Mobile Phones
Increasing Data Allowances on Mobile Phones
11 January 2021 (by admin)
11th January 2021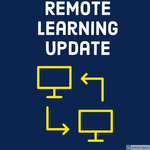 Schools, trusts and local authorities can help disadvantaged children get online using free mobile data increases provided by the Department for Education. This service is currently limited, but is expected to increase in coming weeks. You can request this support for children and young people who meet all 3 of these criteria:
do not have fixed broadband at home
cannot afford additional data for their devices
are experiencing disruption to their face-to-face education
If you need more information, please go to the school website here: https://www.chetwynde.co.uk/increasing-data-allowance
As ever, please be in touch with school if you are experiencing issues accessing remote learning and we will do whatever we are able to help.
Share this: