Mocks Update
Mocks Update
1 March 2021 (by admin)
1st March 2021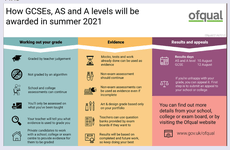 Dear Parents and Carers,
After finally hearing from the Department for Education at the end of last week, we have been able to move forward with planning the Year 11 mocks. We will run them in the week commencing the 26th April, a week after our return from the Easter break. These will be in sat in the theatre as normal.
The final Teacher Assessed Grades (T.A.G.) will NOT be the mock grade, although this will help inform a teacher's final decision. A teacher will use a range of evidence such as classwork, informal tests, and homework. Here is a link to further detail How qualifications will be awarded in 2021 - GOV.UK (www.gov.uk)
The deadline for the submission of the grades is 18th June. Students will be encouraged to continue studying to keep making progress towards this date. We are still waiting to hear guidance as to when year 11 will be able to stand down and as soon as we have this we will be in touch.
We understand that this is a challenging time for year 11, and remind the students to please be in touch and talk to a staff member if they have any worries or concerns.