New Mini Bus!
New Mini Bus!
20 April 2022 (by admin)
20th April 2022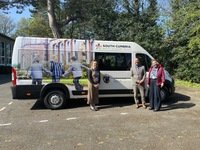 We have a brand new minibus! Keep an eye out for it on the roads while you are out and about; you can't miss the lively livery!
This new bus gives us the opportunity to get the kids out exploring the local area - an important aspect of the curriculum.
Wishing the bus and all who travel in her safe and happy travels!