Christmas Cheer at Chetwynde!
Christmas Cheer at Chetwynde!
18 December 2019 (by admin)
18th December 2020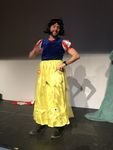 Another Christmas brought the return of the traditional Staff Panto! This year Snow White enlisted the help of the seven dwarves to help save her from the evil queen. It's all good fun with dreadful acting, out of tune singing and was woefully under-rehearsed - but that's what makes it funny. The whole show was finished off with a polished dance performance from the year ten girls to Miraha Carey's "All I Want For Christmas".
In the morning the science department ran 'The Science Quiz' for the first time. It was a house competition involving challenges and quizzes to win points towards the House Cup. Teams were challenged to build spaghetti towers using jelly babies and strawberry laces - I think a few of the sweets didn't make it to the towers! A fun morning for the whole school to mix and enjoy working with different year groups.
The rewards trips on Monday went without a hitch. Children enjoyed days out to the Chill Factor, Trafford Centre, or craft making in school. As ever, there were several reports of members of the public praising the impeccable behaviour of our school.
The final assembly of the year was a whole school affair, complete with a sea of Christmas jumpers, our favourite carol 'Star Child' and the traditional 'Twelve Days of Christmas'. Lots of achievements were celebrated, and finally, Sanjan and Lucca led the three cheers for the school, the teachers and the holidays!