Library Books
Library Books
9 January 2020 (by Jill Robinson (JRobinson))
9th January 2020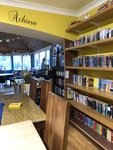 As you know, we are fiercely proud of our reading culture at Chetwynde. It is so heartening to see our students enjoying a peaceful pause in the day, during Drop Everything and Read time. The benefits of this daily routine are immeasurable.
As I was walking through the library today, I noticed that the 'popular series' shelves were looking a bit depleted. I suspect there may be books lurking under beds or propping up the odd PlayStation in bedrooms across Barrow! Please, could you keep an eye out for any stragglers and send them back to school if you find any?
Could I also ask you to donate any unwanted books for our library if you are having a clear-out after Christmas? Donations help to keep the library well-stocked.
Happy Reading!
Ms Robinson