Help needed to upgrade the school theatre
Help needed to upgrade the school theatre
8 February 2020 (by admin)
8th February 2020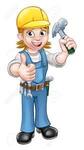 In case anyone hasn't seen the letters sent home this week.... the first stage of our theatre refurbishment is happening this weekend.
If any parents or older pupils are able to give just an hour of their time over today (Saturday 8th Feb), tomorrow or next weekend we would be most grateful.
This is being done entirely voluntarily with money donated from the Friends of Chetwynde, any help would be gratefully received, the more hands-on-deck the quicker we will have a fantastic new stage for your children to use.
Thank you!
Mrs Parkinson