Chetwynde Teens Raise Hundreds in Walk for Australian Bushfires
Chetwynde Teens Raise Hundreds in Walk for Australian Bushfires
9 March 2020 (by admin)
9th March 2020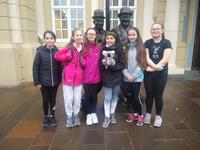 There is one attribute in young people that marks them out as something special - 'get up and go'! When we see students taking things into their own hands, independently, and making something happen, we know they are on the right track.
Lucy Bell, Brooke Shore, Caitlin Ritchie, Emily Moon, Emily Baxter, and Fiona Mancharn, all lead by Summer Eathorne, decided to do a sponsored walk to raise money to help Koala bears caught up in the recent Australian bush fires.
All of the girls involved in this fantastic achievement have shown compassion and the ability to organise, plan, and follow through on an idea entirely of their own making. We know you will join us in sending the girls a huge pat on the back and congratulations on making a difference in the world.