Remote Learning at Chetwynde
Remote education provision: information for parents
These are exceptional days in education. We have worked hard to design a remote learning platform that integrates with day to day on-site teaching and can also effortlessly support remote learning. So, what can you expect from remote education if local restrictions require entire cohorts (or bubbles) to remain at home or individual students self-isolating?
What should my child expect from immediate remote education in the first day or two of pupils being sent home?
There are two scenarios for remote learning, and both are outlined below.
If a student has to move to remote learning either because they are individually self-isolating or an entire 'bubble' is out, they will pick up the school timetable from the first day they are off school.
1. Whole Bubbles or Whole School
Log on to Form Group Team at 8:40 to check in with form tutor.
Continue to follow the timetable.
At the start of each session log on to the appropriate class Team to await your teacher.
What Will a Remote Session Look Like?
Sessions will start with a 'check-in' meeting called by the teacher in Teams.
The session might then consist of activities such as:
The teacher holds a short audio meeting to explain the session tasks, or post a pre-recorded video for the class to watch, or share their screen and walk through a prepared session in OneNote.
Students might break away to complete work while the teacher is available for individuals to 'chat' with for feedback.
The teacher might decide to call a 'meet' mid-session to clarify or teach the next section for everyone.
Students may be directed to Knowledge retrieval platforms such as Quizizz, Senaca or Bitesize.
Teachers may make use of Oak Academy.
The session could end with a message from the teacher in the post or a final class meeting.
2. Individual Students Self-Isolating or Waiting for Covid Test Result
These students will receive the following letter:
Dear Parent / Carer and Student,
If your son or daughter has been sent home from school for a COVID related reason, we will ensure they keep up with their schoolwork.
All classes have a Microsoft Team and attached to each of these is a class 'OneNote' notebook. Teachers are using the notebook to run class lessons, and so all the lesson content will be there for your child to access.
We expect that, if your child is fit and well, they should continue to follow the school timetable each day they are unable to attend school. This will ensure that they keep pace with the class and are doing the correct learning that fits into schemes of work.
They will be temporarily added to a 'Chat' group hosted by SMT to offer a channel of direct communication if they need it. Each morning they need to send a 'hello' in the post with a list of the three subjects they have that day and who their teachers are by 9:10 am so we know they are ready to learn.
At the start of a lesson, they should log on to Teams and send a message in the chat to their teacher to let them know they are ready to learn if they have not already received a communication from the teacher.
The teacher will guide them as to what they need to be doing for that lesson. Learning activities, for example, could be:
Directed to an appropriate lesson on Oak Academy that compliments what is being covered in class that day.

Referred to some lesson content available in OneNote.

Be given an independent task to complete.

Be able to hear the lesson on a Teams audio call.
It will be at the discretion of the teacher to decide what is the most appropriate activity to do.
You must notify the school once the student has had a negative test or has finished a period of isolation and is fit to return to the school, so teachers know to expect them back in class and not return them to school without having done so.
Kind regards,
Senior Management Team
Online Etiquette
Existing in the virtual world has its challenges, and we must adhere to a set of guidelines to help keep things running smoothly and appropriately.
Parents:
Please keep to school hours (8 am - 5 pm) and only email or contact staff during these times. If it is urgent, please email info@chetwynde.cumbria.sch.uk
If you have worries or concerns, please contact the school in the first instance at the previous email address or contact teachers via their school email address. Do not message teachers via Facebook Messenger or other social media platforms.
Please do not use ChetChat or other FB pages to try and contact the school with enquiries. The ChetChat FB page is particularly designed to create a positive space for parents and students to encourage a community atmosphere when we are all apart.
Please do not contact a teacher via the individual students 'Chat', and parents MUST NOT post in Teams Posts. Please use the channels of communication listed above.
Students:
Always arrive at Teams meeting with your video off. You are not required to be on video.

Please keep to school hours (8 am - 5 pm) and only email or contact staff during these times, and it is not appropriate to be disturbing teachers in the evening. If you have a safeguarding issue then, clearly, you can contact us at any time.

Use the 'like' button to show that you have read communications from teachers when they post in Teams. This is like saying 'thank you' and helps the teacher monitor engagement.

Remember that Teams is a formal learning space. Your language and tone should reflect that at all times. Do not use 'Team Posts' for a social chat.
The remote curriculum: what is taught to pupils at home?
We intend to carry on with the planned curriculum by asking students and teachers to continue following the school timetable if we move to remote learning. This will ensure consistency, familiarity with routine and reduce 'lost learning'.
We have securely embedded Microsoft Teams and OneNote into our daily classroom teaching to be able to move seamlessly to remote learning. The system received the first test when year 11 went out. The next morning every student logged on to Teams for session one and learning simply continued where it had left off the day before.
It is important to understand that in a whole school lockdown, some teachers will also have their own children to care for. We know that you will be understanding of this.
What are your expectations for my child's engagement and the support that we, as parents and carers, should provide at home?
We expect all students to attempt to engage with learning and parents to support them, but we understand the difficulties and barriers that can crop up in remote learning. We have been very clear with students that it is their responsibility to make every reasonable effort to communicate with teachers if they experience any problems. Genuine difficulties will not cause students to be in trouble. We will endeavour to do what we can to help parents and students overcome any issues.
Our most important piece of advice is to reiterate to students that they are not 'off school' - they have simply moved to remote learning. To this end, we recommend that the normal routine of getting up for school continues. If possible, create a space for learning, make sure they have the equipment they need and ensure they are logging on to Teams each morning.
If you have worries or concerns, please contact form tutors in the first instance.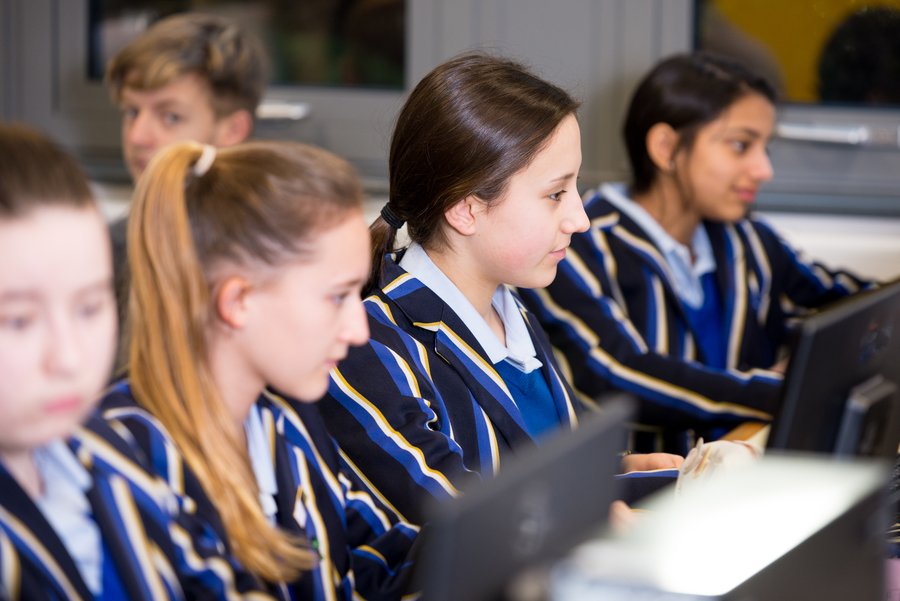 How will my child access any online remote education you are providing?
All remote learning will take place through Microsoft Teams and OneNote. Click here for further support to access this.
How will you check whether my child is engaging with their work and how will I be informed if there are concerns?
Form tutors will monitor morning check-in and alert senior and pastoral colleagues if a student is not making regular contact.
Subject teachers will also follow the same system.
In both cases, the school will contact home to offer support.
How will you assess my child's work and progress?
Teams and OneNote offer a variety of ways for teachers to give students feedback and we expect that teachers will take advantage of these.
Additional support for pupils with particular needs
Learning Support Assistants are members of all teams that any students who require additional support are in. They will offer support and monitor how these students are coping, make suggestions for adjustment and report regularly to the SENCO.